Exclusive Military Offers
Bibles for America provides these free offers as a salute to our service members. U.S. service members and their families can order a free New Testament Recovery Version, free Christian books, and a specially designed military packet.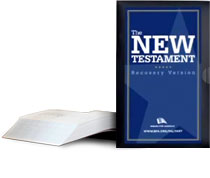 The New Testament Recovery Version is a comprehensive study Bible accurately translated from the original Greek text into modern English. It features extensive notes emphasizing the revelation of the truth, outlines of each book, cross-references, charts and maps, and more. Weighs just under 1 lb.
FREE